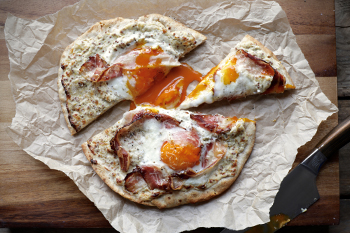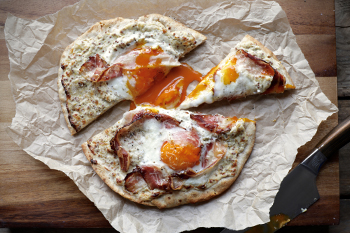 From savoury snacks to Easter treats, here's where to look out for some of our recipes this week.
Our social media feed is blooming at the moment with delicious bites to enjoy from the comfort of your own home. We've even thrown in a couple of more extravagant Easter recipes just in case you've rekindled your love for baking…
Recipes such as our quail egg arancini, Nicola Millbank's croque madame flatbreads (the ultimate Easter brunch) and Madeleine Shaw's omelette wraps with smoked salmon and spiced chickpeas are also cropping up in foodie magazines and online, from Food Heaven to Healthy Diet.
Delicious and Olive magazine often cook using Clarence Court eggs, and their monthly publications and online recipe feeds are bursting with tips to host a delicious Easter extravaganza over the long weekend – even if there's just two of you to enjoy it!
As well as publications, we are really enjoying and truly thankful for the many recipes you're all sharing with us during this time. It's lovely to see so many of you finding positives and rediscovering the things you enjoy while staying safe at home.
For this year's Easter bakes to try this week, visit our Recipe page.