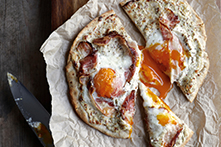 Milly Cookbook describes this dish as the *ultimate* Easter weekend treat, but there's nothing to say it can't be enjoyed all year round.
Ingredients
2 Clarence Court Burford Brown eggs
1 flatbread or chapati
2 tbsp of crème fraîche
A handful of grated gruyère cheese with a little extra set aside
1 heaped tsp of wholegrain mustard
4 rashers of streaky Pancetta
Salt and freshly ground pepper
Method
Preheat the over to 200c fan and lay the flatbread on a baking tray.
In a small bowl mix the crème fraîche with the gruyère cheese, wholegrain mustard and a pinch of salt. Spread evenly over the flatbreads.
Lay the Pancetta over the flatbread and crack the eggs in and around it. Sprinkle with the extra gruyère, some freshly ground black pepper and transfer to the oven, cooking for 8-10 minutes or until the egg white has set and the yolk is still runny.
Allow to cool for a couple of minutes before serving.