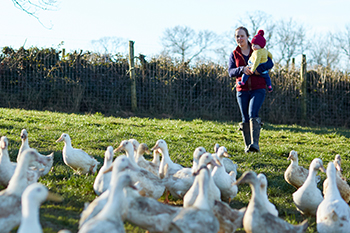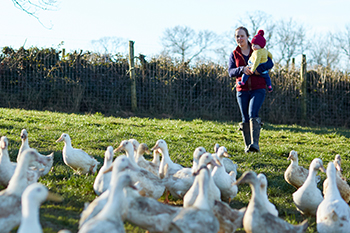 Meet Liz Warner, one of our fabulous duck and quail farmers who just happens to grow British asparagus too.
Her Devonshire kitchen sounds like the perfect place to be on a sunny Sunday morning – with dippy Braddock White duck eggs and spears of freshly picked asparagus for breakfast…  As one of our favourite seasonal pairings, we caught up with our award-winning farmer Liz, to find out about life on the farm during spring.
Liz, can you tell us a bit about yourself?
Along with my husband Marcus and our three very little children, we are first generation farmers. When we started work, we were in and out of farms all the time, Marcus through his agricultural machinery business and me through my work in the egg industry. Clarence Court are a super company, producing some wonderful eggs from exquisite birds, and we thoroughly enjoy producing both duck and quail eggs for them.
Tell us about asparagus, how long have you been growing your own?
We are relatively new asparagus growers – only 4 years in!
What inspired you to start growing it?
Both our quail and duck enterprises are incredibly labour intensive – eggs are collected by hand, in fact, everything is done by hand! We were looking for an alternative crop to grow and asparagus was chosen because of its fantastic pairing with our eggs. 
How easy is it to grow asparagus at home and do you have any tips?
I'm still in the learning phase, so I'm not sure how good my tips would be!  It really doesn't like competition, so you need to keep the weeds at bay.
Why is it so important to buy asparagus while it's in season?
Because its taste is really second to none! You absolutely can't beat the flavour and tenderness of fresh British asparagus. We pride ourselves on being able to supply 'gate to plate' to restaurants in less than 24 hours – and asparagus is certainly a vegetable that is at its best fresh.
You really will taste the difference when it's in season (21st April – 21st June) and most of all, you are supporting our British Farmers.
They say asparagus can grow 10cm a day – can you see it growing?
It can! You can harvest the fields in the morning, and, if it's a good growing day, you can harvest again in the afternoon. I keep meaning to set up a ruler next to some growing asparagus and take photos to show its growth!
And finally, we have to ask – what's your favourite egg and asparagus recipe?
It's very simple I'm afraid, my children absolutely adore 'Dippy Duck Eggs' with asparagus. Soft boiled duck eggs, with some lightly steamed asparagus spears (not too much to retain a bit of firmness) – delicious!