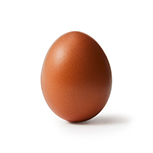 Burford Browns
Our Burford Brown eggs have a lovely, hard, glossy, deep brown shell and are perfect for poaching and boiling, as they retain their farm freshness. They have a delicious, dense golden yolk that will remind you of times gone by. Their divinely rich flavour makes them the perfect egg for any occasion.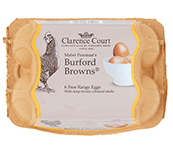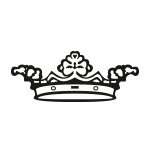 The Clarence Court Crown
It's easy to recognise royalty in the egg world, by the Clarence Court crown. When you see this on your egg, you know it's from our exclusive line of traditional breed birds, who enjoy a life of privilege roaming free on acres of England's green and pleasant land from dawn until dusk.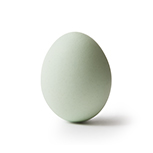 Old Cotswold Legbar
Clarence Court Old Cotswold Legbar eggs have a distinctive pale blue hue. Its deceivingly delicate outer shell colour hides a rich creamy yolk with a full-bodied flavour. Old Cotswold Legbar eggs have plump and upstanding yolks, proud to be tasty. Simply delicious when fried.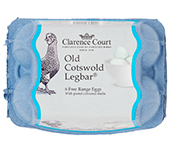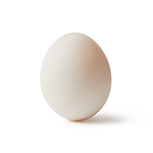 Leghorn Whites
Our traditional Leghorn White eggs have beautiful, bright white shells. Once cracked, their signature, vibrant, golden yolks stand proud and when soft boiled, will leave your mouth watering, with a fabulously creamy taste won't disappoint either.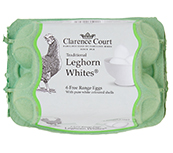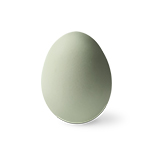 Seabright Sage
The graceful green shells of our Seabright Sage eggs, delicate in colour, are a striking contrast to the richness of the yolks inside. With a lustrous, golden centre and a silky soft creamy white, they make dipping sublime and give bakes that extra something.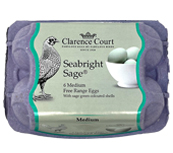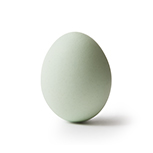 Cornish Blues
With lovely light greenish-blue coloured shells, our Cornish Blue duck eggs taste as beautiful as they look. The creamy yolks lend themselves fabulously to bakes and cakes, and are simply delicious as a morning treat, fried or boiled and enjoyed as the perfect dippy egg.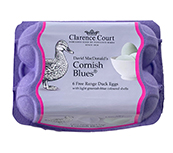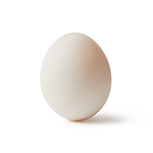 Organic Leghorn Whites
The glowing golden yolks of Clarence Court Organic Leghorn Whites are a stunning contrast to their beautifully bright white shells. The fabulously creamy flavour adds a richness to everything from cakes and pastries to omelettes and sauces.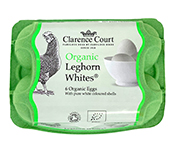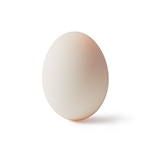 Braddock Whites
From their translucent, ivory white eggshells to the light, creamy yolks, our duck eggs bring a new meaning to "go large" for recipes. These eggs are made for exceptionally light baking and some people once they have had duck eggs never go back to hen's eggs for breakfast.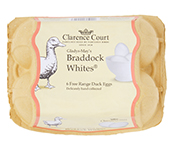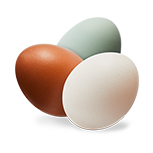 Traditional Breeds
A stunning selection of creamy white, glossy brown and delicate blue shells that encase the finest yolks from our heritage breeds. Enjoy a variety of eggs in one box – perfect for breakfast, baking and all your culinary adventures.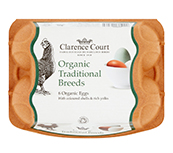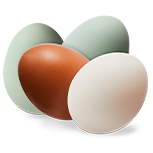 Traditional Breeds
Seabright Sage, Burford Brown, Leghorn White and Old Cotswold Legbar eggs offer an exquisite showcase of our most renowned breeds. One box goes further than a typical half-dozen, with eight fabulous eggs in each box.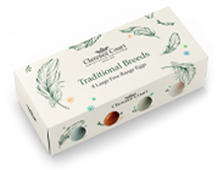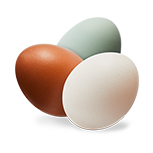 Double Yolk
The beauty of our traditional, heritage birds shines through in their striking, vibrant shells. Inside, their rich, double yolks add an extra touch of luxury, making them splendid for pastry recipes or the ideal candidates for boiling and dipping at breakfast time.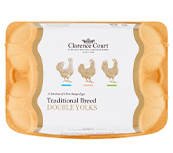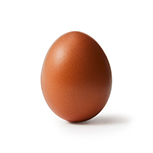 Pullet Eggs
Laid by young birds, our Pullet eggs are much smaller – around a third of the size – compared to the eggs of older hens. Prized by chefs for their high yolk-to-white ratio, their wonderfully rich flavour and strikingly deep coloured yolks make for the perfect mayonnaise, pastry or crème brûlée.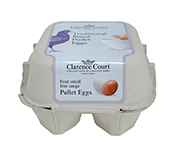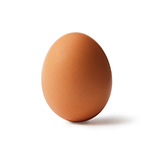 Bantam Eggs
As small hens, Bantams produce small eggs. Their intense, dark yolks are richer, so are perfect for scrambling or making delicious quicheds. The ratio of egg yolk to egg white is much higher than a standard hen's egg at 50/50, giving each egg a much deeper colour.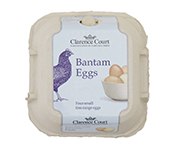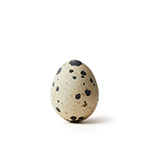 Quail Eggs
Our Quail eggs are a quarter of the size of hen eggs. Their small, speckled shells hold delicate little eggs with pale yolks that need just 30 seconds to soft boil. They make wonderful, bite-sized scotch are worth the attention to detail required to shell to make wonderful bite sized scotch eggs.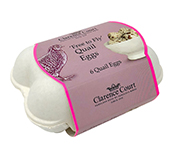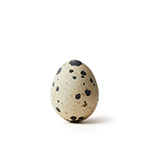 Cooked Quail Eggs
Our free-to-fly quail eggs have been cooked and peeled for your convenience. Perfect for picnics and canapés, these hard boiled and ready to serve quail eggs are simply delicious. Great for brightening up a salad or simply a healthy and nutritious light snack.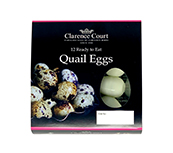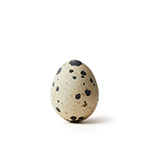 Pickled Quail Eggs
These fabulous free-to-fly quail eggs have been cooked, peeled and preserved in deliciously sweetened malt vinegar. This special preparation ensures that the subtle flavour of our quail eggs is not overpowered when preserved – perfect for sprucing up your salad.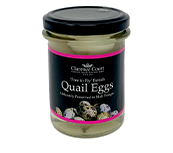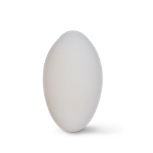 Goose Eggs
Our Goose eggs are the tastiest you've ever had. They're mouth-wateringly rich and creamy and if you soft-boil them, they're perfect with shavings of truffle or fresh, seasonal asparagus soldiers. One goose egg is the equivalent to 2½ medium hen eggs.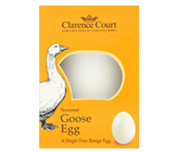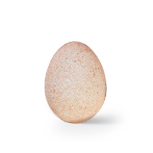 Guinea Fowl Eggs
Available from spring to late summer, Guinea Fowl eggs have a thicker, oatmeal-coloured shell and a rich flavoursome yolk. Originally native to Africa, Guinea Fowl eggs are a delicate and elegant treat. Soft boiled or hard boiled they add an extra something to salads.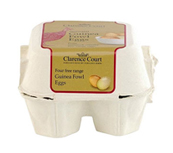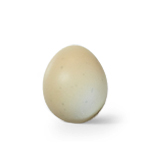 Pheasant Eggs
In season from April to June, these eggs are delicious. They have deep, delectable, yellow yolks, larger than a quail egg, but about half the size of a regular hen egg. Their shells are a sophisticated olive green and brown, reminiscent of Farrow & Ball paint colours.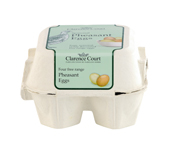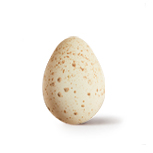 Turkey Eggs
Clarence Court turkey eggs are a luxurious treat with their creamy, large yolks. Turkey eggs, unlike turkey meat, are a rarity because they simply do not produce very many eggs each year and, as they are big birds, require a lot of feed. Available from April to June.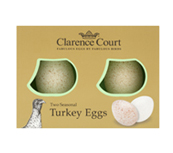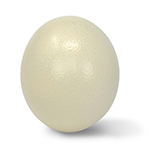 Ostrich Eggs
Available from April to September, these eggs are an exciting treat. Weighing in at nearly 2 kg each, one ostrich egg is roughly equivalent to 24 large hen's eggs for cooking in recipes. With a distinctive light flavour and texture they are ideal for cooking.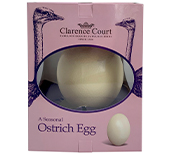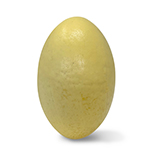 Rhea Eggs
For all you foodies, Rhea eggs from Clarence Court are a must try! In season from March to June, they are lighter and fluffier than hen's eggs but have a stronger flavour. Rheas are often called the American ostrich so their eggs are large and good to share.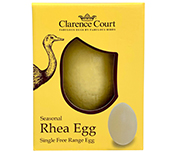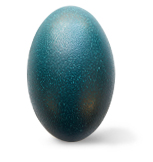 Emu Eggs
Our Emu eggs are milder in taste compared to a hen egg and they are much fluffier in texture. They boast a high ratio of yolk to white, allowing extraordinary results when used for baking. Emus lay their eggs throughout winter so these eggs are available from November to May.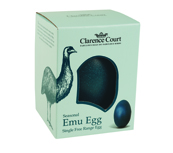 Pure Egg Yolk
Adding our fabulously rich, golden yolks to your recipes has never been easier thanks to our Pure Egg Yolk liquid egg. Make homemade mayonnaise in minutes or emulsify to create a sumptuous bearnaise sauce.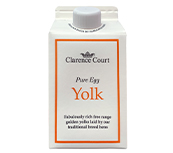 Just Whole Eggs
Possibly the easiest way to enjoy Clarence Court eggs, our wonderful whole eggs are simply fabulous in all of your favourite dishes. This new kitchen staple is perfect for feeding a family or hosting a dinner party.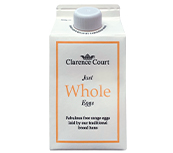 Simply Egg White
Full of the good stuff, our Simply Egg Whites are a brilliant protein source while still tasting utterly delicious. Whip a marvellous meringue with ease, or mixed with veggies for a nutritious egg white omelette.