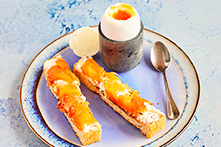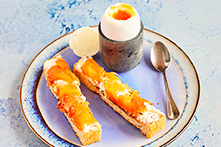 The school holidays have arrived, which means more time for relaxed, family gatherings around the breakfast table.
A hearty breakfast or brunch, with our glorious, golden yolks as the shining stars, is the perfect way to start the day. Indulge in heavenly Turkish eggs, packed with herby flavour and a refreshing paprika kick, or dive into our delicious dippy eggs. Whether you prefer the rich flavour of smoked salmon or the satisfying crunch of Tenderstem broccoli spears, dippy eggs are a simple yet mouth-watering breakfast for the whole family.
Exquisite ingredients deserve the most handsome presentation, and our charming egg cups are an impeccable throne for breakfast boiled eggs – from our famous Burford Browns to our rich and creamy Braddock Whites.
Visit our Boutique and Recipes Archive now and dive into some cracking family breakfasts this summer.