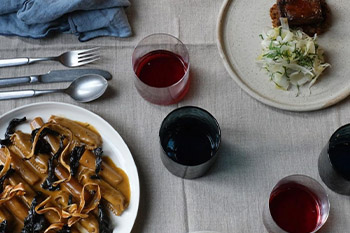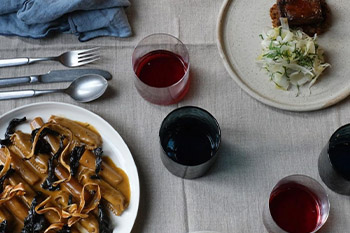 For the first time, restaurants are closed on Valentine's Day but that doesn't mean you can't celebrate in style. We've put together a guide to some of the best dine-in meal kits available, so you can enjoy a romantic feast from the comfort of your own home.
Nationwide:
Padella
Avoid the queues of London's beloved pasta restaurant with Padella Pasta Kits. They're known for fresh, hand rolled pastas with the most delicious sauces. We recommend the Stracci with Gorgonzola Fonduta & Slow Cooked Sweet Onion.
Starting from just £14 for two, the kit is an absolute steal.
To make an order click here.
Dishoom
If you're more into brunch than fine dining, then top Indian restaurant Dishoom's iconic Bacon Naan Roll kit is definitely going to be a hit. For a golden finish, add a fried Burford Brown.
£16 for two servings.
To make an order click here.
Bentley's Oyster Bar & Grill
Bentley's is known for championing local produce and ethical eating. Under the watchful eye of head Chef Richard Corrigan, you can expect the freshest fish, oyster and steaks. For a more luxurious Valentine's Day treat, try recreating their famous Oyster Masterclass experience at home.
£95 for two servings.
To make an order click here.
Lyles Provision's Duck Menu Box
Make this Valentine's Day special with Michelin starred restaurant Lyle's seven course menu. Included, you'll find heavenly duck served with blood orange and radicchio, scallops with fennel pollen, followed by a chocolate and burnt pear tart for dessert. There's also a selection of wines, cider and beer to add on too.
£140 for two servings.
Pasta Evangelists
For an affordable yet utterly delicious Valentine's, Pasta Evangelist's invites you to recreate the restaurant at home with authentically Italian fresh pasta dishes. With so much choice it's a difficult decision. But perhaps the Lemon & Mozzarella Ravioli with a Sage Butter Sauce will take your fancy?
From £12 for two servings.
To make an order click here.
London:
Darbys – Vauxhall
Robin Gill's Darby's brings the best of New York inspired comfort food into your home. Included you'll find steak, truffled mac n cheese, crispy beef fat potatoes, sides, starters and for dessert a rhubarb cream choux bun. For extra indulgence, you can also choose a bottle of red to pair beautifully with the rich meats.
£90 for two servings.
To  make an order click here.
Jean-Georges at The Connaught
For a lavish Valentine's at home experience, we recommend The Connaught's five-course set menu. While mains feature truffle crusted turbot and japanese black beef, to finish there's a choice between lemon millefeuille, raspberry coconut meringue, dark chocolate brownie and more. If the set menu doesn't take your fancy perhaps go for their signature heart-shaped truffle pizza instead.
£90 for two servings.
To make an order click here.
Pophams – Hackney
We highly recommend Popham's three-course menu, it's a healthy mix between indulgent comfort food and fine dining experience. Dishes include pressed lamb breast, lentil ragu and a rhubarb and blood orange dodger for dessert. There is also an option to add wine, cheese and so much more.
£70 for two servings.
To make an order click here.