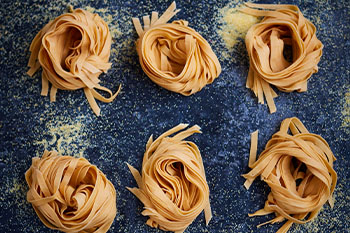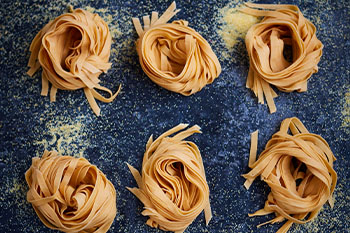 Chef Theo Randall shares a few tips on Italian cooking for those novice or enthusiastic home cooks. Our Burford Brown eggs might just be the answer.
From getting the dough just right to using the best pasta sauce, Theo Randall has passed on a handful of pasta top tips he teaches in his masterclasses. Number one, and the one we like best, is to start with the shopping!
Theo says: "It is essential you have the best ingredients as this will ultimately be the reason the dish tastes good. So, for fresh pasta always use Tipo 00 flour and good eggs like Clarence Court Burford Brown eggs." According to Theo, timing and the accompanying wine also make it extra indulgent.
Rich in flavour and colour, Burford Brown eggs will result in excellent taste and a silky orange-hued dough. To make truly rich and bright pasta, use only egg yolks and not the whites. You can see our very own Fresh Egg Pasta Dough recipe here.