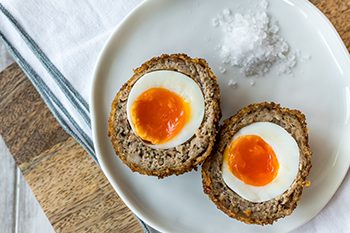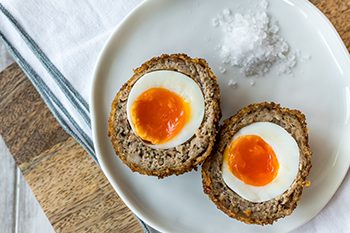 No al fresco feast would be complete without scotch eggs. In celebration of National Picnic Week, Good Homes Magazine shares the perfect recipe to impress your friends this summer.
Picnicking is one of the country's most enjoyable summer traditions from finding a warm spot in the park to packing a hamper and heading to the coast. Although the sun may be hiding behind the clouds this week, it's not stopping us celebrating one of the nation's favourite summer pastimes as part of National Picnic Week.
A Clarence Court summer feast isn't quite complete without a hamper filled with classic picnic foods. Our favourites include our British asparagus, leek and bacon tart, classic egg sandwiches, crispy scotch eggs and for something sweet Portuguese custard tarts – all simply delicious with a cool class of Pimms.
This week, Good Homes Magazine shares our step by step guide to make luxury scotch eggs with perfectly oozy, Burford Brown yolks which will no doubt steal the show in your picnic hamper this summer. Follow the full recipe here.