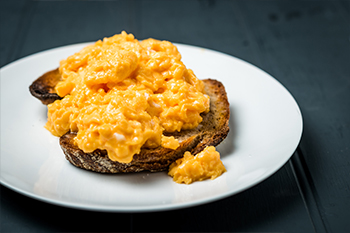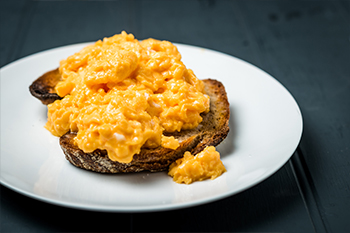 Food writer and home cook Rose Prince beats celebrity chefs to steal scrambled eggs crown.
London, Thursday 27th September: The debate that has had chefs in a scramble for centuries was finally settled tonight as the much coveted Clarence Court Crown for the best scrambled eggs method was awarded to Rose Prince.
Hosted by food writer and MasterChef critic William Sitwell, prompted by one disappointing breakfast dish too many, the Clarence Court Great British Scrambled Egg Challenge assembled a panel of Britain's finest chefs and food experts to blind taste eight different methods of cooking up the comforting staple.
From the heat of the pan to the type of utensil, no egg was left unturned – or indeed folded or whisked. The food lovers rated each on appearance, flavour and texture whilst debating whether to hold the milk, add dollops of crème fraiche or lashings of cream, whether microwaveable eggs from a bag is ever acceptable and whether or not to break the eggs straight into the pan.
In a cracking tie breaker, Rose Prince was crowned winner.
Rose Prince said: "I am honoured to be crowned champion of the Clarence Court Great British Scrambled Egg Challenge. I have always believed that scrambled eggs should be as simple as they are comforting. Use nothing but eggs and butter and the secret is to start the recipe with eggs and unmelted butter in a cold pan. If you can, use a wooden fork and only season at the end."
Host William Sitwell said: "How to cook scrambled eggs is one of Britain's biggest culinary conundrums with countless restaurants failing to hit the mark. Tonight was all about cracking the code to the perfect plate of scrambled eggs and I was delighted to name Rose Prince as the winner of the challenge."
Follow Rose's winning recipe this weekend here.