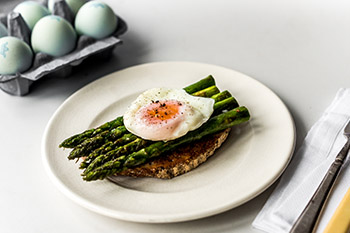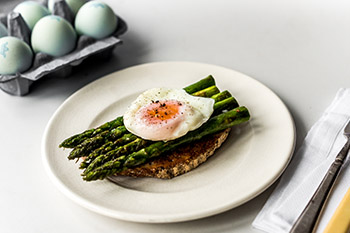 British asparagus season is almost upon us, the perfect spring time accompaniment to soak up our sunny, golden yolks.
Asparagus is traditionally harvested on St. George's day, the 23rd April and lasts right through until the Summer Solstice on the 21st June.
This vibrant and nutritious spring vegetable is harvested by hand as it reaches the perfect height, making it a real labor of love. The little stem of goodness is jam packed with vitamins K and C and works as a detoxifier for your body, great for a spring cleanse.
Asparagus is available from your local supermarkets such as Waitrose, also keep an eye out at your local greengrocers. Whether boiled, steamed, grilled or roasted, be sure to make the most of British asparagus while you can – it's a very short season!
We particularly love asparagus simply steamed with a lovely poached Braddock White egg on top, lovely for brunch or a light lunch. You could also try replacing your toasted soldiers with asparagus for dipping into your soft boiled Burford Brown, or why not try our recipe for asparagus, boiled egg, olive and green bowl which is available here.