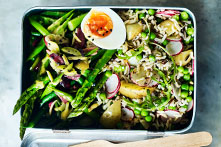 Brighten up your lunch with Madeleine Shaw's nutritious Asparagus, Boiled Egg, Olive and Green Bowl. Filled with fresh, seasonal flavours, it's the perfect move from winter warmers to spring salads.
Ingredients
100g asparagus, trimmed
100g green beans
2 Clarence Court eggs of your choice
100g olives pitted and chopped
1 teaspoon sesame seeds
For the dressing:
1 tablespoon olive oil
1 teaspoon apple cider vinegar
1 teaspoon mustard
Pinch or salt
Method
Steam the asparagus and green beans over a pan of simmering water for 4 minutes, then drain.
Meanwhile, in another pot, boil the eggs in plenty of water for 5-6 minutes, until just cooked through. Once cool enough to handle, peel the eggs and half.
Whisk the dressing ingredients together in a small container.
Roughly chop the olives and add to the lunch box together with the asparagus, green beans and sesame seeds.
Pour over the dressing when ready to eat – enjoy!
Madeleine Shaw's A YEAR OF BEAUTIFUL EATING is published by Trapeze in hardback & eBook, priced £20/£10.99
Photography: Martin Poole, Emma Gutteridge