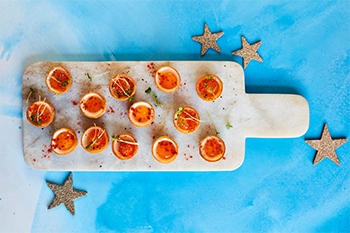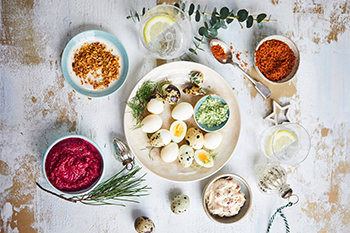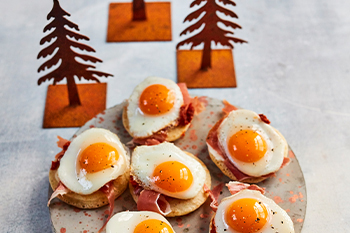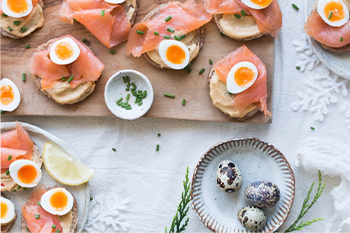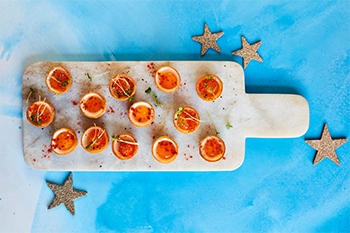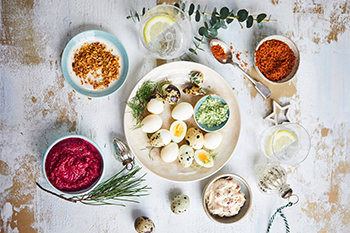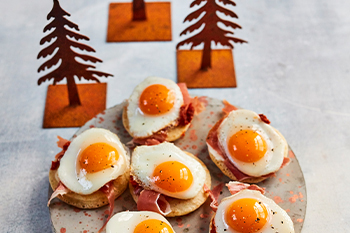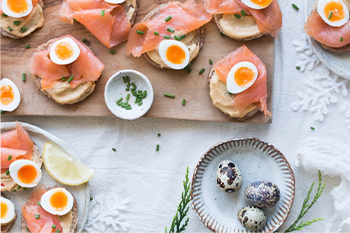 Christmas one-bite wonders to enjoy this season.
Dazzling guests doesn't have to be over complicated. With a little help, you could host a Christmas get together with the only worry down to whether there's enough bottles of fizz in the fridge…
Whether you're hosting a drinks party, afternoon nibbles or a full Christmas Day spread, these delightful quail egg canapes take minutes to make and seconds to eat!
Blinis with Parma ham & fried quail eggs
A quarter of the size of a hen egg, our dainty quail eggs are perfectly sized to crown a blini. Simply fry in a pan for 2-3 minutes and sit atop Parma ham.
Mini croque madame bruschetta
After you've tried these indulgent toasts topped with ham, welsh rarebit and a fried quail egg, you most certainly be coming back for more.
Quail eggs & Christmas dip
Dip, eat and repeat! Quail eggs don't only lend themselves to being dipped into celery salt (as delicious as it is!) but crunchy, creamy and smokey dips too.
Follow our Christmas dip guide here, including Beetroot & Horseradish, Ricotta & Sundried Tomato and Herby Sea Salt.
Mini croustades
These couldn't be simpler and seriously delightful. Simply crack a quail egg in mini croustade cases, bake in the oven for 5 minutes and sprinkle with smoked paprika and cress to finish.
Madeline Shaw's Christmas Blinis
Top miso mayonnaise, smoked salmon and quaint quail eggs to a blini for a bitesize treat that can be balanced with Bellini in the other hand!
Available shelled or pre-cooked, you can stock up on Clarence Court quail eggs in your local Waitrose and Sainsburys stores or online from Ocado.