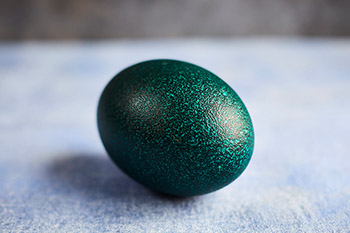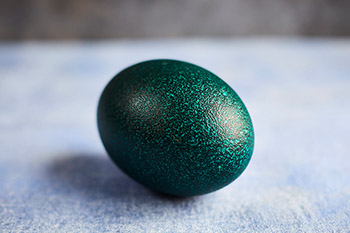 Our stunning Emu eggs, with their charismatic dark teal shell are a fabulous crowd-pleaser. Emu eggs are gorgeous inside and out, with a much fluffier texture than one may think, and lucky for you, they are now in season until April in selected stores.
Emu eggs are much larger than hens eggs, weighing to that of 12-14 hens eggs. Their large size makes them the perfect Clarence Court egg for sharing with your household. With us all eating more at home at the moment, they make a truly special surprise for brunch at the weekend. Alternatively, they taste delightful alongside a cheese board with a glass of wine or as an addition to an antipasti sharing platter. Sounds perfect for Valentine's… 
Like gold dust, there's very limited availability in Fortnum & Mason's, Selfridges, Central London Waitrose Stores, Wholefoods Kensington and online at Ocado. To give you an idea about just how rare these beauties are – our birds are laying an average of around 3-4 eggs per week at the moment. Stockists will receive the eggs weekly on a first come first serve basis, so remember to keep your eyes peeled! 
If you're one of the lucky ones who manages to get your hands on one, you must try our very special Emu egg fondue recipe.