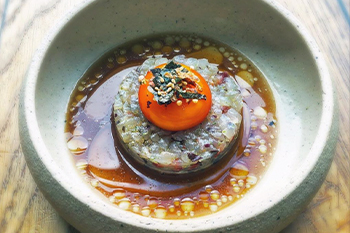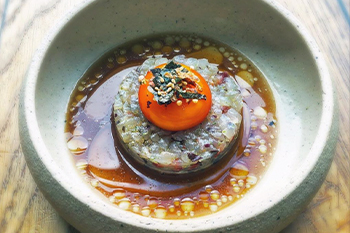 "I'm thrilled to have won… I'm so proud of our team who work tirelessly to ensure we are constantly evolving and delivering a memorable experience to all our guests".
The Hackney seafood restaurant Cornerstone had a successful night at the AA Hospitality Awards this week, winning three AA rosettes and deservedly so being crowned the prestigious title of 'London's Restaurant of the Year'.
Chef Tom Brown's menu has been inspired by the spirit of sharing plates and is made of simple, yet sophisticated seafood dishes. Tom's goal is to serve the best food and drinks and deliver a unique and exceptional experience.
We are a proud supplier of the restaurant, where Clarence Court eggs make an impressive appearance on the menu, with the rich golden yolks being a feature in many of Tom's dishes. A particular favourite is his Grey Mullet Tartar, full of punchy flavours such as seaweed and soy. Customers who have visited Cornerstone have enthused about the 'pert and golden' egg yolk, 'just waiting to run'!
Tom's beautifully presented dishes and swanky restaurant setting has made him a storming London success. To find out how Tom preps some of his delicious delights using our fabulous eggs, catch him in action here.