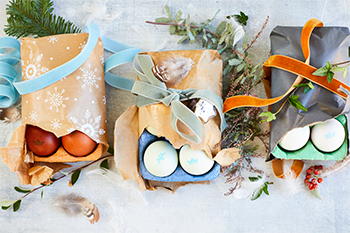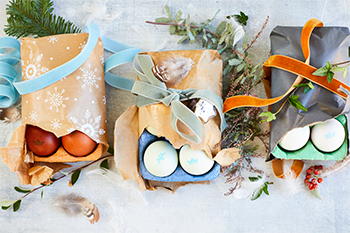 From Christmas packaging and competitions to Beetroot quail eggs and numerous festive recipes, we've been busy bringing you the best Clarence Court Christmas we can.
With only 5 days to go, the last of the Christmas shopping and preparations to host are taking place. Don't forget our large family of eggs are available in many local supermarkets all through the Christmas period so you never have to worry about running low – check our stockists page here for your local store. If you haven't spotted it already, our Christmas packaging is still gracing the shelves of supermarkets, where our birds have specially swapped their crowns for seasonal Santa hats.
If you are looking to try something new this Christmas, we have a delicious selection of festive recipes available on our website. From Butternut Squash, Burford Brown &Chestnut Strudel to our Winter Fruit & Nut Pavlova, AlphaFoodie's Ultimate Christmas Gingerbread House and the classic Christmas cocktail Eggcellent Eggnog, there's something for everyone.
We have just launched our Beetroot Pickled Quail Eggs just in time for Christmas, available in selected Waitrose stores. Pre-peeled, cook and served with a sour cream and goats cheese dip, they're ready in a flash perfect for hosting during the festivities. You can find your nearest store here.
We have all the festive feels here at Clarence Court and we are sure you do too! From our kitchen to yours, we wish you all a truly fabulous Christmas and delicious New Year.