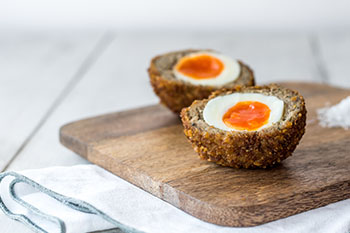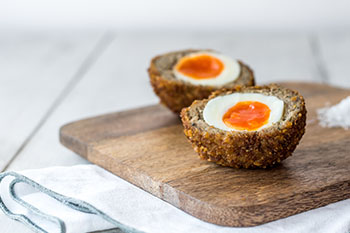 In the week Scotland vs England battle it out in the Six Nations, London's leading chefs go head to head in a cook-off and blind tasting event to find the nation's best scotch egg.
Chefs from Temper, The Dairy, Smoking Goat, Holborn Dining Room, Pidgin, Nanban and Rambla will meet at The Canonbury Tavern in Islington to compete in the 8th year of their famous Scotch Egg Challenge.
Bob Granleese and Felicity Cloake from The Guardian, Stefan Chomka of Restaurant magazine, and chef and journalist, Lisa Markwell will sit on the panel judging on taste, texture and appearance.
300 Burford Browns have been donated to support the challenge and will be used to rustle up this year's best scotch egg.
A must-attend for London's foodie fans this February, we hear there's enough scotch eggs for the audience to gorge on throughout the evening, each oozing with a glorious, golden yolk.