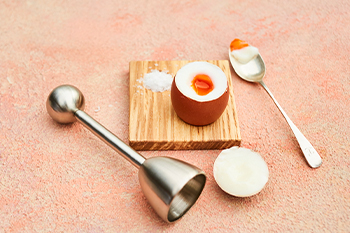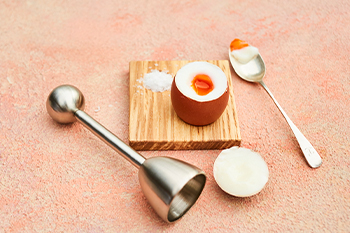 Calling all egg-loving foodies. Christmas really has come early with our new online Boutique.
Handpicked by the Clarence Court team, the intimate collection of kitchenalia and must-have egg gadgets will elevate your dining experiences, and make your eggs in the morning, even more fabulous – it really is a haven for all things eggs.
At Clarence Boutique you'll find stunning David Loftus photographic prints, beautiful tea towels, handcrafted egg boards and much more…
A few of our favourites:
This gorgeous quail egg plate with salt dip is handmade in Burford exclusively for Clarence Court. Available in three gorgeous colours: a delicate blue, garden green and scrumptious sage, this little heavenly dish is the perfect addition to your canapé table – the one you didn't know you needed.
Our no-fuss egg clacker will make your mornings much easier. Simply place on top of your Clarence Court egg, pull the ball and let it 'clack' down on the shell. It will do all the work so that you can get dipping!
These six stackable boiled egg and salt mini boards are ready for your perfect eggy pairings. Crafted by Bruun, these exclusive Clarence Court boards are responsibly sourced and use sustainably grown English Ash – the perfect way to transform breakfast time with friends and family.
For the cook. This delightful teal apron is an exquisite way to protect you from any cracked eggs, spilt milk or clouds of flour. Custom made by Risdon & Risdon and hand embroidered with the Clarence Court logo, these glorious cotton canvas aprons are perfect for your chef or baker. With leather cross back straps, held with durable fastenings, this design makes washing super speedy – meaning you'll never be left without it for long.
It's always a delight to hear positive feedback. A happy customer sent us a lovely email about her recent experience:
"My order arrived yesterday evening and I am delighted. Have seasoned my Shakshuka dish, looking forward to a treat this weekend. Such a lovely idea to pop the recipe in too. The egg spoon is beautiful and will make eating my boiled egg even more enjoyable. The card enclosed saying "packed with love" included a handwritten note. All this, together with the pretty feather tissue paper made receiving this order such a treat, just like unwrapping a present!"
To share your experience of shopping at the Clarence Boutique please email:
[email protected] We'd love to hear it!