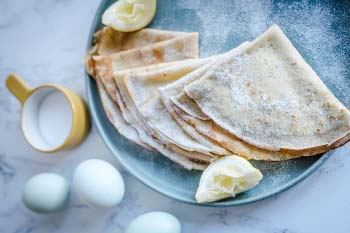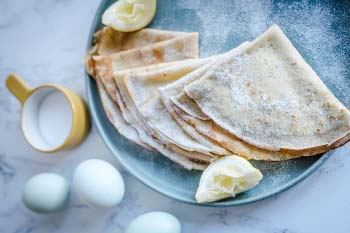 Dig out your spatulas and prepare to get flipping because Pancake Day is just around the corner.
Our wonderful ambassador Harrie (@bootoagoose) has shared her top pancake tips that you might not necessarily have thought of:
Use a lightweight, cheap and cheerful non-stick frying pan- no heavy cast iron.
Melt butter in the pancake pan before pouring most back into batter, leaving a coating in the pan.
Make batter preferably the night before and stir gently before using.
These top tips, a few simple ingredients and a creative mind is all it takes to make truly scrumptious pancakes. Whether it's sweet or savoury you favour there is an abundance of combinations to top off your stack. This year we would love to see what fabulous creations you make with our fabulous eggs – be sure to tag us on socials to show us how you have your pancakes!
Here are some of our favourite serving suggestions:
Go classic with lemon and sugar
Satisfy your sweet tooth with chocolate and strawberries
Be adventurous with spinach, caramelised onion and Gruyère
Try something new with crunchie, honey, salt and rosemary
Switch sweet for savoury with smoked salmon, smashed avocado and crème fraiche
If you don't already, add a little bit of luxury to your recipe with Clarence Court eggs giving your pancakes a glorious golden hue. You can find your nearest stockists on our website.
Head over to our recipe page and take a look at our very pancake recipes if you need some inspiration.