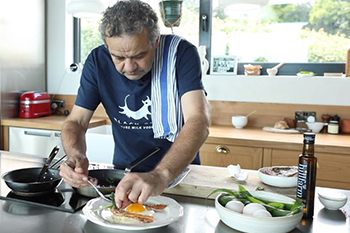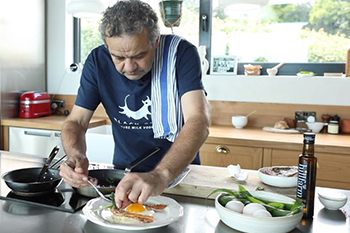 As part of our Clarence Chef tour, we headed to the Jurassic Coast for breakfast with Mark Hix.
Celebrated chef, restaurateur, food writer and Clarence Court ambassador, Hix felt very much at home in his beach-side kitchen which overlooks the beautiful Dorset coastline.
Close to his seafood restaurant, HIX Oyster & Fish House, with a box or two of his go-to eggs at the ready, he rustled up two classics with a twist – posh bacon and eggs, and dippy egg and soldiers.
Both simply divine, he first paired a fried Braddock White duck egg with wild garlic and guanciale (a super quality bacon, cured with herbs and spices), followed by his family's favourite, a beautifully boiled Braddock White with fresh asparagus soldiers.
An advocate for Clarence Court eggs in his home and restaurants, our collection of seasonal stars feature on all of his menus.
Watch Mark Hix's breakfast masterclass on our Youtube channel.