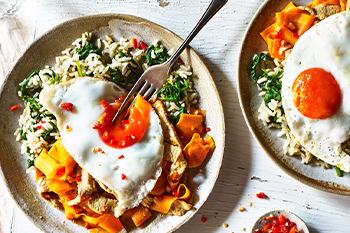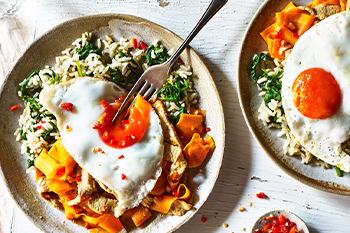 At Clarence Court we're passionate about collaborating with partners who use fresh and local ingredients and have the same values for welfare and quality as us.
We're delighted to announce that Clarence Court have become the new egg supplier for the UK's #1 healthy recipe box, Mindful Chef. We will be supplying our Burford Browns and Leghorn Whites for all their delicious boxes. Upcoming recipes include the Mindful burger, fried egg and fries, a 10 minute Korean steak and egg bibimbap, and a pork nasi goreng.
Their approach to cooking follows all the values we treasure the most – simply providing incredible tasting, ethically sourced ingredients that benefit you and your body. Their recipe boxes provide the tools to cook delicious, nutritionally balanced meals that help you feel healthier and happier, making healthy eating for all that little easier.
They certainly live up to their name with being 'mindful' embodying every decision. The suppliers they choose, the ingredients they use and their impact on the environment too. We're very honoured to be one of their chosen high-quality, sustainably sourced, British suppliers.
With options for all lifestyles, Mindful Chef offers one-person, two-person and family meals, and caters for gluten-free, dairy-free, vegan, flexitarian, vegetarian and pescatarian diets. For every meal sold, they also donate one school meal to a child living in poverty, in association with the One Feeds Two charity reaching a milestone of 4 million donated meals.
Fancy trying our fabulous eggs in their recipe boxes? Simply browse the menu at mindfulchef.com!