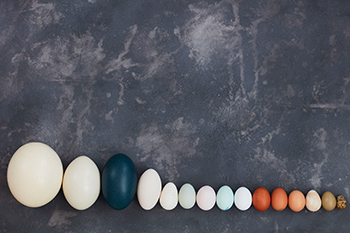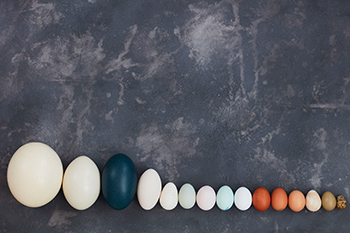 With spring comes longer days, warmer nights and our collection of extra special, seasonal eggs.
Each with their own charming and charismatic shell and filled with fabulous flavour, our seasonal eggs are an exotic treat which will add dimension to your recipes.
With their ivory white shell and rich, creamy interior, our Goose eggs are in season now until June. Vibrantly yellow Rhea, Farrow & Ball green Pheasant and lightly speckled Turkey eggs are also available for a short time too.
While you may have missed our stunning, emerald-shelled Emu eggs until winter, our awe-inspiring Ostrich eggs have stolen the show for summer. Although like gold dust, they're available now until September. If you're lucky enough to get your hands on one, it's an exciting treat the whole family will wonder over – one ostrich egg is equivalent to approximately 24 large hens' eggs.
Enjoyed for breakfast, lunch or supper, visit our recipe page for inspiration on how to make the most out of our spring favourites.
Please note, we leave all our birds to lay at their own natural, speed, and variables such as the weather do impact this. We are therefore unable to guarantee the number of eggs laid each season – but to us, this is what makes each of our eggs so very special. When in season, you can find our collection in Fortnum & Mason, Partridges, Wholefoods Kensington and some Waitrose stores. And do remember, our Burford Browns, Old Cotswold Legbar and Leghorn White hen eggs are available all year round, as well as Braddock White and Cornish Blue duck eggs, Bantam and quail.
We always love to see your creations, so please do tag us on socials using #clarencecourt.