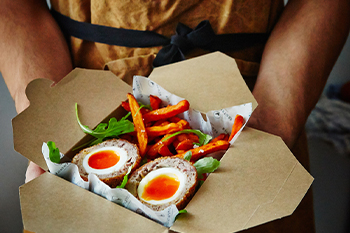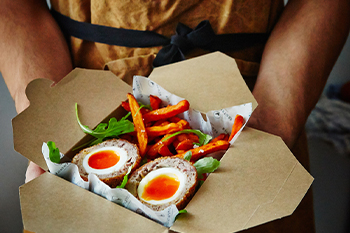 Our Burford Browns are the star of the show in Scotchtails' celebrated scotch eggs.
Artisan scotch egg brand, Scotchtails, has launched their first permanent site at the brand-new, eco-friendly and plastic-free Borough Market Kitchen in London. Deliciously coinciding with the festive season, a period when food brings everyone together, the team will be dishing up an extended menu of their signature scotch eggs, all oozing with the glowing, golden yolks of Clarence Court eggs.
Chosen for their dense yolk and rich flavour, we are thrilled to support the enterprise in serving lovingly homemade scotch eggs to hungry Londoners. Emerging as a Borough Market favourite in 2013, Scotchtails has made quite an impact reviving the basic scotch eggs into a beloved British icon. Their crispy-shelled scotch eggs are served with sweet potato fries and baby leaf salad throughout the winter – a terrifically tempting mid Christmas shopping snack.
If you're not planning on visiting the capital anytime soon, why not try making a batch at home over the festive period. Of course we're biased, but our Smoked Haddock & Seaweed Scotch Egg recipe is utterly divine! Follow our step-by-step guide here.