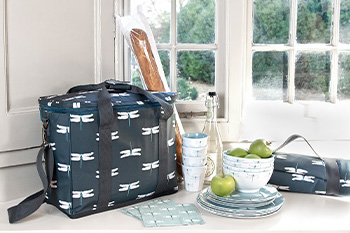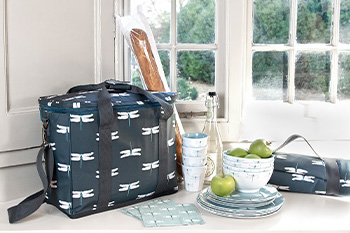 Picnic weather is almost here, and it's the perfect way to enjoy some much-needed time outside with friends, family and loved ones! Something that we've all missed so much over the past year. We caught up with homewares and lifestyle brand Sophie Allport to find out their tips on planning the perfect picnic and introduce you to the chance of winning some exciting prizes…
Picnic must-haves:
Food
Picnic bag
Picnic blanket
Plates
Cutlery
Napkins
Cushions and throws for extra comfort
Rubbish bag
Games
A picturesque picnic spot – First up, you need to find the perfect picnic spot, and that will change for everyone depending on where you live (beach, park or even garden) and your personal preference. We love an area that has a little bit of sunshine and a shaded area too, and if you can find somewhere that is a little bit secluded and private, then even better! Clear out any unwanted rocks, twigs, or gravel as they are not the comfiest to sit on.
A pretty picnic blanket – Once you have found your area, take out your picnic blanket. We love our knitted picnic blankets, as they have a water-resistant base, so it does not matter if the ground is a little damp. They also come with a faux leather strap, so it is easy to carry around and can be folded away afterwards.
Add comfort and textures – Next, we like to add some extra textures using cushions and throws. These will provide added comfort, warmth if there is a chill in the air, and if you have little ones, it is practical for an afternoon nap.
The perfect picnic bag – Once your picnic blanket is set up, it is time for the food, one of the most important things about a picnic. You want a cool bag that has extra thick insulation, so it will keep your food cool and fresh. We love our Sophie Allport Hearts Picnic Bag, which even has two insulated side pockets, excellent for storing a bottle of something special (perfect for a romantic picnic).
Get creative with food – We like to prepare everything the night before and write a little list of everything we need to take. Sandwiches cut into triangles are always a winner, some of our favourites include ham and cheese, cheese and pickle, mozzarella and tomato and a classic egg mayonnaise using Clarence Court Eggs. Pair with quiches, crisps, pies, scotch eggs and fruit. Remember to pack plenty of drinks for everyone too!
Tuck in and clean up – Hand out reusable plates and cutlery and layout the food so everyone can tuck when the time comes. Make sure you have napkins on standby for those messy pups. Keep a rubbish bag close by so everyone can discard any litter and mess, and remember to take this with you when you leave and pop it in your bin at home.
Have fun – Picnics are about spending time with our friends and family, so take a football, rounders, cricket kit, badminton set or even just some bubbles for the children and have fun and spend some quality time together!
To celebrate this wonderful partnership we're giving you the opportunity to win:
Sophie Allport Picnic Bag and Blanket (of the winners choice!)
Clarence Boutique Tea Towels
3 month's supply of Clarence Court eggs
To enter the competition head on over to our Facebook page.
We wish you the best of luck!