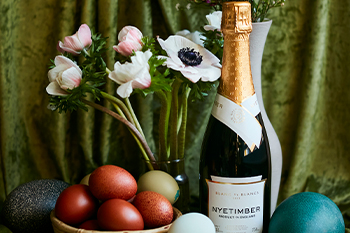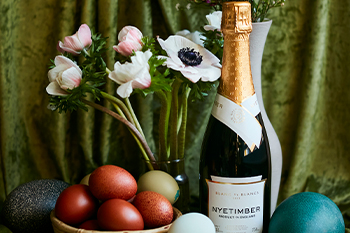 We've teamed up with the luxurious Nyetimber to bring you the most harmonious pairings this Easter – the finest English sparkling wine and our fabulous eggs. With a shared commitment towards the environment and provenance, we're delighted to bring you some indulgent recipe inspiration and some decadent prizes!
Using only estate-grown grapes from their own South England vineyards ensures only the finest fruit is used to craft globally renowned Nyetimber wines. Nyetimber's flagship Cuvee – Classic Cuvee is a delectable blend of Chardonnay, Pinot Noir, and Pinot Meunier – just divine. Fine wine calls for the finest food. Dine like royalty with these elegant and truly delicious pairings:
Eggs Benedict With Prosciutto
Soft Boiled egg with Goats' Cheese, Asparagus and Peach on Toast
Coddled Eggs with Smoked Salmon
Passionfruit Soufflé
Lemon Meringue Pie
Quails' Eggs and Salmon Roe
Crab & Watercress Tart
To celebrate this fabulous partnership and Easter being on the horizon we're giving you a chance to win not one but THREE chances to win some fabulous prizes…
29th March – 4th April 2021
To enter head to our Instagram page @clarence_court for more information.
Win: A Nyetimber Celebration Case, a Magnum Blanc de Blanc 2013, and a years' supply of your favourite Clarence Court eggs.
29th March – 12th April 2021
To enter simply click here and enter your details (two prizes are up for grabs!).
Win: 1st Prize: Nyetimber Icons Case and a year's supply of Clarence Court eggs.
2nd Prize: Nyetimber Classic Case and a 6-month supply of Clarence Court eggs.
12th April – 18th April 2021
To raise a glass to the perfect partnership we're closing this collaboration with another fabulous prize! Head to our Instagram page @clarence_court from Monday 12th April for more information.
Win: One bottle of Nyetimber's Classic Cuvee.
Good luck!