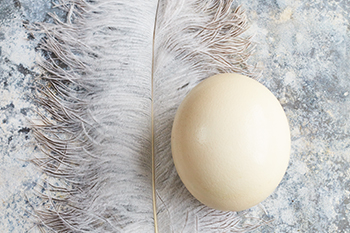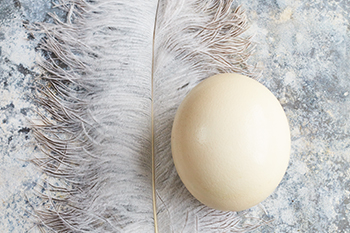 Weighing in at nearly 2kg each, our largest, richest and most fabulous-for-sharing eggs are now in season until early September. Limited stock available!
Weighing in at nearly 2kg each, one ostrich egg is roughly equivalent to 24 large hen's eggs. Their distinctive light and buttery flavour makes them ideal for cooking – that's if you have a saucepan big enough!
Homing a large, golden yolk inside the 4mm shell the ostrich egg brings a whole new meaning to eggs in the morning. They are delicious eaten eggs-any-style from boiled to scrambled to fried, and perfect for baking too.
Recommended boiling times start from 50 minutes with an omelette taking approximately 10 minutes. Here's some coverage sharing some fabulous ideas of how to eat your ostrich egg in the morning.
Available now until September, selected Waitrose stores are selling them for £19.99. As there's only ever limited stock available – these ostrich eggs are truly like gold dust.
If you are lucky enough to give one a try, we'd love to see a picture of your delicious dish on social media. Tag us @clarence_court.