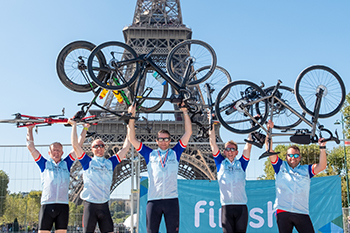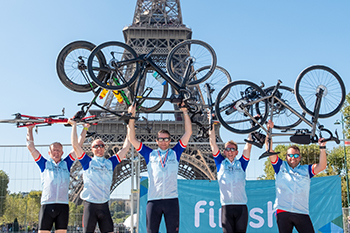 Thursday morning saw five of our team set off on a 240-mile, three-day endurance cycle ride from London to Paris in aid of GroceryAid.
Led by Adrian Gott, CEO, the team who included Tom Willings, Steve Morse, Mike Tyres and Adrian Blyth, successfully crossed the finish line at the Eiffel Tower on Sunday.
"Whilst we're all keen cyclists, we were under no illusion that this would be a significant challenge" explains Adrian. "Working as a team, we ensured we reached the finish line as one, encouraging and supporting each other when the going got tough – precisely why we're so proud to be supporting and helping GroceryAid to deliver their mission."
GroceryAid is a fantastic, national charity which we are so proud to support each year. They help people from across the grocery industry, from the largest factory to the smallest corner store, offering financial, legal and emotional support and counseling at times of crisis. To find out more about the cause, please visit GroceryAid.