Three weeks ago, our talented chef ambassador Gennaro Contaldo collected a prestigious award.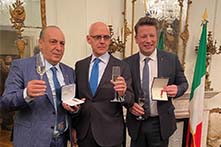 Hosted by Ambassador Trombetta within the opulent walls of the Italian Embassy, an awe-inspiring London townhouse overlooking Grosvenor Square, Gennaro and Jamie Oliver were accepting the Order of the Star of Italy – an admirable accolade bestowed upon those who promote the culture of Italy abroad.
Gennaro has passionately endorsed Italian cuisine in the UK and beyond through his restaurant, books and television shows and we're proud to call him an ambassador, as he brings such an infectious energy to everything he does. Congratulations Gennaro!