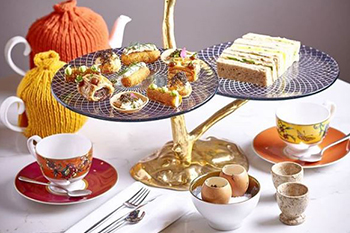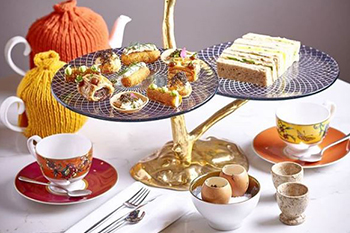 'Modern, British, seasonal, sustainable; that's my ethos that underpins my cooking. I don't want to be the best restaurant in the world – I want to be the local's favourite in Chelsea.'
And that, Chef Adam Handling you are.
Head Chef at Belmond Cadogan Hotel, Adam has crafted a culinary masterpiece creating a menu fit for every taste and every mood, at every time of day – from beautiful British cuisine in the restaurant to a traditional afternoon tea experience.
Their two-hour long experience served in the classic tea lounge, the menu – which promises to evoke nostalgia and warm feelings of abundance with an elegant and refined touch – begins with a selection of 'traditional with a twist' sandwiches such as our Braddock White duck eggs with curry mayonnaise and mustard leaf, and Valley Smokehouse smoked salmon with crab salad and rocket. Each filling perfectly matched with one of their five, freshly baked breads to balance flavours.
To follow, a stunning collection of sweets honouring the hotel's historic location, Sloane Street, and the fascinating life story of its namesake, Sir Hans Sloane. Examples include Granny Smith and lemongrass cremeux, passion fruit curd tart with coconut mousse and salted caramel sacher with milk chocolate Chantilly – all treats accompanied by the luxury Newby Teas.
For more information about Adam's star menu, and to book, visit the Belmond Cadogan Hotel's website.