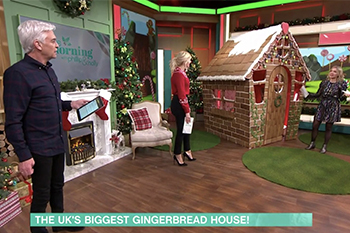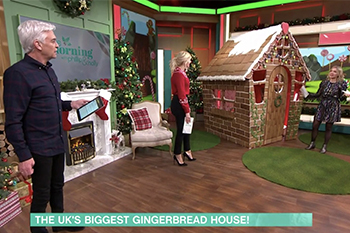 Juliet Sear is the Queen of Baking- it's official. She triumphed when she recently made a life-size gingerbread house for Holly and Phil on ITV's This Morning. Juliet and her team of seven worked tirelessly over a weekend to bake the UK's biggest gingerbread house.
The gingerbread house was made up of entirely donated ingredients, including 300 Clarence Court eggs, in our brand new Liquid egg form. This super-sized sweet treat is a mighty 700 gingerbread bricks, 120 kilos of royal icing with icing sugar wallpaper, flying gingerbread reindeer, candy canes, and boiled sweet glass. The house is supported by a wooden base structure, and was given the Schofield seal of approval when he took a bite- live on air!
After the show the gingerbread house was donated to the charity City Harvest for distribution around London. The charity focuses on redistributing food to vulnerable people including homeless shelters, children's programs, and refuges' for those experiencing domestic violence. The project gave us all so much joy when it aired and it will continue to spread the Christmas cheer to those who need it most. We couldn't be more proud to be involved- well done team!
If you'd like to make your own gingerbread, give Juliet's easy recipe a go:
Ingredients:
200g soft unsalted butter
120g soft brown sugar
80g molasses sugar
1 medium free range egg
1 teaspoon vanilla bean paste
½  teaspoon cinnamon
2 teaspoons ground ginger
½ teaspoon mixed spice
375g plain flour
Method:
Preheat the oven to 180C.
Beat the sugars, butter and vanilla together until well combined.
Add the egg and beat again until incorporated into the mixture.
Mix the spices into the flour so it is distributed evenly.
Add the flour to the bowl and beat slowly until just combined.
Tip out the mixture onto the surface and bring together into a ball.
Roll out to an even thickness of approx 5mm. (Tip: use marzipan spacers or guide sticks to ensure all cookies are exactly the same and look neater)
Cut out the tiles and place them onto the parchment lined tray/s leaving a couple of cm in between each one.
Bake for 12 minutes and then trim back to the size of your chosen template.
Return to the oven for 8 minutes (you may need to trim again)
Leave the gingerbread to cool on the trays for 5 minutes and then transfer to a wire rack to cool completely.
Please click the link here to watch the gingerbread house live on air.