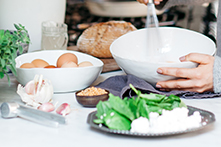 Madeleine Shaw spices up an traditional egg omelette with wilted spinach, feta and dukkah - delicious anytime of day.
Ingredients
3 Clarence Court Burford Brown eggs
50g feta, crumbled
1 teaspoon dukkah
1 tablespoon coconut oil or butter
1 garlic clove, crushed
50g spinach
Salt and freshly ground black pepper, to season
Method
Whisk the eggs together in a bowl with a pinch of salt and pepper. Mix the feta with the dukkah.
Heat the coconut oil in a pan, then add the garlic and stir for 15 seconds. Add the spinach and a pinch of salt, and sauté for a minute or two, until the spinach wilts. Pour over the beaten eggs. Cook for a few minutes until the egg is no longer runny. Use a spatula to lift the edges so that the uncooked egg can seep to the bottom.
Sprinkle the feta mix over one half of the omelette, then fold the other half over on top.
Enjoy while still hot.
Madeleine Shaw's A YEAR OF BEAUTIFUL EATING is published by Trapeze in hardback & eBook, priced £20/£10.99
Photography: Martin Poole, Emma Gutteridge