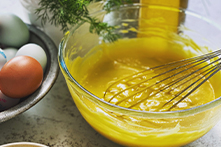 This creamy homemade mayonnaise is the perfect condiment for an egg and cress sandwich or as a delicious dip. Made with our fabulous Burford Browns, you can be sure your mayonnaise will have a glorious golden hue.
Ingredients
2 Clarence Court Burford Brown egg yolks
1 teaspoon Dijon mustard
500ml Rapeseed oil
2 tablespoons white wine vinegar
½ lemon
Crushed herbs or garlic for flavour (optional)
Method
First separate the egg yolks from the egg whites.
Then whisk the Dijon mustard and yolks together. You will need half of your oil at this stage. Add a drizzle of oil and whisk well to form a base. Then continue to add the rest of the oil, little by little, whisking constantly until they combine and start to thicken and become glossy.
Next, add one tablespoon of the white wine vinegar (you will add the rest later). This will lighten the mixture and make it go paler. You can add the rest of the oil which will help the mixture thicken, mix well.
To flavour, add the lemon juice and the rest of the white wine vinegar. You can add chopped herbs for a herby mayonnaise or garlic for an aioli.
Place in a sterilised a jar and refrigerate for up to 7 days.