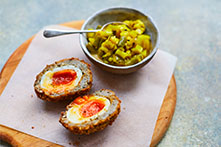 Master the iconic scotch egg with Thomas Frake's take on a great British classic that has our heavenly eggs at the heart of it. For the perfect accompaniment Thomas has also created a vibrant piccalilli recipe.
Ingredients
Ingredients for the scotch egg:
8 Clarence Court Burford Brown eggs
300g Cumberland sausages
150g white pudding
2 stems fresh sage
1 tablespoon Dijon mustard
150g panko crumbs
100g plain flour
1 tablespoon dried parsley
Vegetable oil, for frying.
1 tablespoon white wine vinegar
Salt & pepper
Ingredients for the piccalilli relish:
100g cauliflower
100g courgette
100g green beans
100g fennel
50g shallots
300ml white wine vinegar
100ml caster sugar
2 tablespoons plain flour
1 tablespoon mustard powder
1 tablespoon nigella seeds
1 teaspoon cumin seeds
1 teaspoon tumeric powder
1 tablespoon fine salt, plus a pinch
Utensils:
2 saucepans
3 mixing bowls
Whisk
Deep fryer or deep saucepan
Baking sheets
Rolling Pin
3 large dishes for flour, egg and crumbs
Blue cloths
Slotted spoon
Cooling rack
Stick blender
Measuring jug
Weigh scales
Cling film
Storage bowls
Presentation plate
Sauce bowl
Greaseproof paper squares
Spoons
Knives
Refuse bags
Colander
Jars
Ice
Method
Skin the Cumberland sausages and white pudding and add to a large mixing bowl.
Finely chop the sage leaves and add to the sausage meat with the mustard. Mix together with your hands. Portion into six 75g balls and chill.
Bring a pan of water to the boil. Add the vinegar, and lower in the 6 eggs. Cook for 6 minutes and then plunge into ice water. Chill completely, and then peel.
Whisk the remaining 2 eggs with a splash of water and pinch of salt. Mix the breadcrumbs with the dried parsley, and place in a bowl. Add the flour to a separate bowl.
Flatten a sausage meat ball, wrap around an egg, and seal well. No white should be showing. Roll in flour, then egg, then breadcrumbs. Deep fry at 180C for 3 minutes until golden brown. Rest on a cooling rack and season with a pinch of salt.
Meanwhile, make the piccalilli relish. Dice the cauliflower, courgette, green beans, fennel and shallots into roughly equal size. Cover with the salt and leave for at least one hour to cure. Rinse and drain.
Pour half the vinegar into a saucepan with the sugar, nigella and cumin seeds, and bring to a simmer. Pour the other half of the vinegar into a bowl, and whisk in the flour, mustard powder, tumeric and a pinch of salt.
Add the slurry to the saucepan and simmer until thickened. As it thickens, add the vegetables and cook out for a minute or two to take the raw edge off. Remove from the heat, add to sterile jars and chill.
It's now time to plate up and tuck in, enjoy!