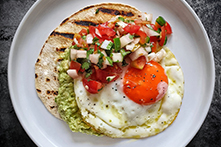 The original Huevos Rancheros is the perfect symbol of Mexican cooking. Bold flavour and simple execution, but wonderfully refreshing and deliciously moreish. A fried Burford Brown topped with creamy guacamole and a sweet and spicy pico de gallo reflects the three colours of the Mexican flag. Thomas Frake is a Clarence Court ambassador and winner of MasterChef 2020.
Ingredients
1 avocado
2 Clarence Court Burford Brown eggs
2 small corn tortillas
1 tomato
½ white onion
1 jalapeno
1 lime
1 tbsp fresh coriander
Smoked salt & pepper
2 tablespoons pico de gallo
Method
Half and destone the avocado. Scoop out the flesh of both sides. Mash it with the juice of half a lime. Season with a pinch of salt.
Peel and finely dice the onion. Add to a bowl with finely diced tomato, green chilli, freshly chopped coriander, and the juice of half a lime. Season with a pinch of salt.
In a small non-stick pan, fry the eggs until the whites are cooked but the yolks remain runny. Lightly toast or grill the tortillas to warm them through.
Put the tortilla on a warm plate, spread over the avocado guacamole, place the egg on top and finish with pico de gallo. Season with smoked salt and pepper and enjoy!