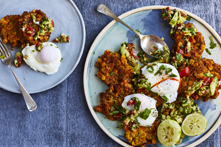 A great family dish and one to feed a crowd for anytime of day. Sweet and spicy crunchy corn fritters are a fantastic carrier for Burford Brown eggs and fresh guacamole. You can add an extra kick up by adding a little chilli sauce to the mix or sprinkling over jarred jalapeno slices at the end.
Ingredients
5 Clarence Court Burford brown eggs
1 small can sweet corn, drained (approx. 198g)
6 spring onions, trimmed and sliced
50g courgette, coarsely grated
50g carrot, peeled, coarsely grated
A small bunch fresh coriander, leaves picked and stalks finely chopped
1 red or green chilli, de-seeded and chopped
2 limes
½ teaspoon smoked paprika
Salt and pepper
60g self-raising flour
50 ml milk
2 ripe avocados
10 cherry tomatoes
Olive oil
Method
Drain the sweet corn and add to a mixing bowl with 3 sliced spring onions, grated courgette, carrot, sliced coriander stalks, half the chopped chilli and a few scrapings of lime zest. Mix together and then add the paprika, season well with salt and pepper then stir in the flour. Crack one egg into a separate bowl, whisk then pour into the grated mix with the milk. Mix well and place to one side.
Peel and de-stone the avocadoes, chop the flesh and scoop into a bowl. Chop the tomatoes and add with the remaining sliced spring onion, chopped chilli, roughly chop a few coriander leaves, squeeze over the lime juice and add a splash of olive oil. Season well, stir and place to one side.
Poach the 4 eggs to your liking and use a slotted spoon to place them in a bowl of cold water. Keep the cooking water on the hob on a low heat so you can re-heat the eggs when ready.
Place a large frying pan on a medium heat. Add enough olive oil to make a thin layer. Test the oil is hot enough by dropping a spoon of mixture into the pan if it bubbles it's good to go. Add spoonfuls of batter into the pan and fry on both sides until golden. Use a fish slice to transfer to a plate lined with kitchen roll and then on to warm serving plates. Repeat until all the mixture has gone. Re-heat the eggs in the pan of simmering water and place on top of the fritters. Divide up the guacamole and scatter over the coriander leaves.