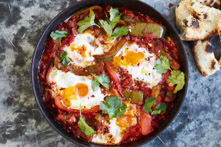 Shakshuka is a great Middle Eastern one-pot lunch or supper, and also makes a deliciously different brunch dish. The duck eggs look simply beautiful peeping through the rich and glossy tomato sauce.
Ingredients
4 large Clarence Court Braddock White duck eggs
1 large onion, chopped
2 cans of tinned tomatoes
2 red and 2 green peppers, deseeded and cut into strips
Olive oil
2 cloves of garlic
1 teaspoon cumin
1 teaspoon sweet paprika
½ teaspoon cayenne pepper
Fresh coriander, roughly chopped
Greek yoghurt to serve
Method
Heat a glug of olive oil in a heavy bottomed pan on a medium heat. Add the sliced onion, red and green peppers and fry until soft, but still have a little bite. Season well, and add the garlic, cumin seeds, smoked paprika and tinned tomatoes to the pan. Simmer, uncovered, for 10-15 minutes so that the sauce reduces a little. Taste and season if necessary. If the sauce has thickened too much, add a splash of water.
Make four shallow wells in the sauce. Break an egg into a cup and add it to one of the wells in the sauce: repeat for each egg. Cover the pan and steam for a few more minutes, until the whites are set but the yolks are still runny. Sprinkle with chopped coriander and serve with a chunk of bread and a dollop of creamy yoghurt.