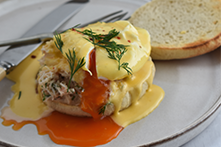 A pillowy English muffin, topped with one of our fabulous eggs laid upon Seafood & Eat It handpicked white crab with a blanket of lemon chilli hollandaise.
Ingredients
100g Handpicked White Crab Meat
Handful fresh dill, finely chopped
Pinch of dried chilli flakes
1 tbsp creme fraiche
Juice and zest of half lemon
Salt/Pepper
2 Clarence Court Burford Brown Eggs
1 tbsp White Wine Vinegar
2 English muffins, halved
Hollandaise:
3 Clarence Court egg yolks
4 tbsp unsalted butter, melted
1 tsp dijon mustard
1 tbsp lemon juice
Salt/Pepper
Pinch of chilli flakes 
Method
Add crab, creme fraiche, lemon juice, lemon zest, dill, and chilli flakes to a small mixing bowl and combine thoroughly with a fork. Season to taste using flaky salt and freshly ground black pepper.Set aside. 
To make the hollandaise sauce: bring 1 inch of water to a gentle simmer in a medium saucepan. Whisk egg yolks, lemon juice, and mustard in a round-bottomed heatproof bowl and set over simmering water. Whisk the yolk mixture to blend.
Ensure you are whisking the mixture constantly and add the melted butter in a slow, steady stream. It will start to thicken and lighten in colour. 
Remove from the heat and add seasoning, chilli flakes. If the sauce is too thick, add a little more lemon juice. 
To poach the eggs, bring a saucepan of water to a gentle simmer and add the white wine vinegar. 
Crack eggs into water 1 at a time and cook for 3-4 for soft poached yolks. Lift the eggs out of the saucepan with a slotted spoon, pat dry with a paper towel.
Toast the English muffins, butter, and top with the prepared crab mixture. 
Add poached eggs to the crab and pour over the warm hollandaise. Garnish with some dill and serve immediately!