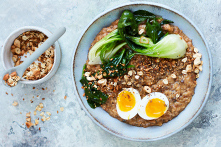 With texture a bit like a risotto and taste a bit like a congee this savoury porridge can be eaten any time of day. Served simply here with a boiled pheasant egg and stir fried greens you could also serve less porridge alongside crispy pork belly or pan fried salmon.
Ingredients
2 Clarence Court pheasant eggs
150g good quality porridge oats
40g mixed seeds (sesame, sunflower and poppy are lovely)
40g mixed chopped nuts
800ml chicken stock
1 tablespoon soya sauce
1 tablespoon black bean paste1 clove garlic, peeled and sliced
1 small piece fresh ginger, peeled and chopped
1 tablespoon vegetable oil
200g fresh leafy greens like kale, spinach, chinese cabbage, pak choi, chopped.
Sesame oil
Method
Place a large frying pan on a medium heat. Add the oats and lightly toast for a few minutes. Tip the oats into a medium sized saucepan and leave to one side. Place the frying pan back on the heat and add the nuts and seeds, toast them all until golden and smelling sweet. Add most of the nuts and seeds to the pan of oats and leave the rest to one side to sprinkle on the finished dish.
Add the chicken stock, soya sauce and black bean paste to the pan with the oats and cook over a low heat, stirring regularly for around 10-15 minutes until thickened but not dry.
Boil the pheasant eggs to your preference, soft boiled works well. Once cooked, cool and peel.
In the frying pan add the vegetable oil and heat, fry the garlic and ginger until lightly golden. Add the greens, stir fry until just wilted and then drizzle over a little sesame oil.
Divide the porridge between bowls, make a little nest of greens on one side and halve and place the boiled eggs on the other. Scatter over the remaining nuts and seeds.