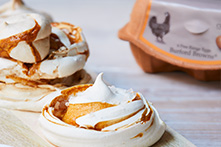 Deliciously light and fluffy meringue with a salted caramel swirl. A showstopper for any table.
Ingredients
4 Clarence Court Burford Brown egg whites
220g caster sugar
1 teaspoon white wine vinegar
2 tablespoons dulce de leche or thick caramel sauce
Sea salt flakes, for sprinkling
Method
Preheat oven to 150°C (300°F). Place the eggwhites in the bowl, and using an electric mixer, whisk on high speed until a stiff peaks form. Gradually add the sugar, 1 tablespoon at a time, waiting 30 seconds before adding more. Once all the sugar has been added, whisk for a further 6 minutes or until stiff and glossy. Scrape down the side of the bowl, add the vinegar and whisk for a further 2 minutes or until glossy and combined.
Draw 8 x 10cm circles on 2 large pieces of non-stick baking paper to fit 2 large baking trays, allowing room to spread. Divide the meringue between the circles and top each with 1 teaspoon dulce de leche.
Using a palette knife, swirl the mixture and spread to the edge of each circle. Sprinkle with the salt, reduce the heat to 120°C (250°F) and bake for 30 minutes or until crisp to the touch.
Turn the oven off and allow the meringues to cool in the oven for 30 minutes.