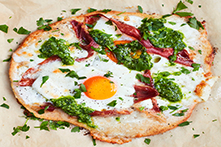 Madeleine Shaws healthy pizza recipe is one you must try. Featuring fried Clarence Court duck eggs, Romesco and parma ham this pizza tastes great and is healthy too!
Ingredients
Makes 2 pizzas

For the Romesco:
4 Clarence Court duck eggs
50g of coriander
2 spring onions
1 tablespoon of lime juice
100ml of olive oil
50g of toasted and skinned hazelnuts
1 teaspoon of salt
200g of mozzarella
6 rashes of parma ham
2 tablespoon of chopped parsley
For the spelt flour pizza dough:
120ml of warm water
120g of spelt flour
1 teaspoon of honey
1 big pinch of salt
1 tablespoon of olive oil
1.5 teaspoon of active dry yeast
Method
To make the spelt pizza dough mix the water yeast and honey together, let it sit for 6-7 mins until foamy. Then add the flour, salt and stir with a spin until a dough form. Using your hands roll the dough into a ball then knees on a floured surface for 5 minutes.
Roll into a ball again with olive oil and wrap with plastic and place in a warm place for 1.5-2 hours until it doubles inside. Place in the fridge until you need it, but bring it out 4 hours before you use it so it's at room temperature.
Preheat the oven to 210 C. divide the dough into two and roll out until quite thin. Transfer to a baking sheet covered in greaseproof baking paper. Top with torn mozzarella, parma ham and then crack the eggs into the pizzas. Sprinkle over some salt and the parsley and bake in the oven for 10 minutes until the whites of the eggs are cooked through.
While this is cooking blend the Romesco ingredients and top on top of the pizza when it comes out. Serve hot.