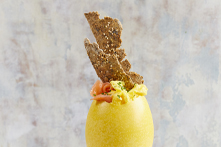 This is a simple and elegant way of presenting a beautiful yellow shelled Rhea egg for a brunch with friends. You'll have enough to serve up to 12 guests. Make your own cracker bread or serve with your favourite shop bought.
Ingredients
Rye Cracker Breads:
1 Clarence Court Burford Brown (egg white)
150g wholemeal rye flour, plus extra for dusting
½ teaspoon sea salt and freshly ground black pepper plus extra for sprinkling
¼ teaspoon baking powder
1 tsp fennel seeds
70g mix of seeds, such as poppy, sesame, sunflower or pumpkin
1 teaspoon honey or maple syrup
2 tablespoons butter, melted
---
Scrambled Rhea Egg:
1 Clarence Court Rhea egg
1 teaspoon freshly ground black pepper (plus extra for serving)
1 teaspoon sea salt (plus extra for serving)
50g unsalted butter
2 x 400g pack smoked salmon
2 lemons cut into wedges
Method
Rye Cracker Breads:
Preheat the oven to 180C Fan/Gas 6. Line 2 baking sheets with greaseproof paper.
Place the flour in a large mixing bowl stir in the salt and pepper, baking powder, fennel seeds, 40g mixed seeds, honey and butter. Make a well in the centre and then pour in 80 ml water, stirring with a dinner knife then mixing with your hands until you have a soft, sticky dough.
Flour a clean work surface well with flour. Cut the dough ball in half and roll the dough out to a rough rectangle around 1 cm thin. Carefully transfer to a baking tray and place to one side whilst you roll out the other piece of dough.
Whisk the egg white well and brush all over the top of each piece of dough. Sprinkle over the remaining seeds and sprinkle over a round pinch of salt and pepper then lightly press down.
Place the trays in the oven and bake for 18 – 20 minutes or until golden and crisp. Allow to cool on a wire rack. Once cool break up into shards or pieces.
---
Scrambled Rhea Egg:
Carefully crack the top of the Rhea egg with a spoon and gently click away small amounts of the shell until you can tip the egg out into a large mixing bowl for whisking. Tidy up the shell clicking away any more shell until the opening is large enough for serving. Peel away the inner membrane and carefully wash the shell inside and out with hot, soapy water and rinse under the tap. Allow to dry.
Meanwhile whisk the egg well and season with 1 teaspoon freshly ground black pepper and seas salt. Place a medium saucepan on a low/medium heat, add the butter and melt until just bubbling. Pour in the whisked egg and use a spatula to gently scramble the egg in the pan to your liking. It's best to just under cook the egg as will continue to cook in the pan with the heat off. Get the slices of smoked salmon ready to go.
Place the clean shell on a clean plant pot or cup and fill with scrambled egg, arrange some of the salmon on top next to the egg. Serve the crisp breads with the remaining salmon and lemon wedges.