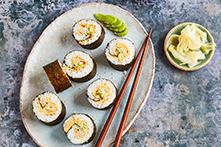 Sushi fans - this one is for you. Fresh and crisp, cucumber, avocado, prawns and a splash of sesame oil delicately wrap the delicious Burford Brown omelette. To be enjoyed anytime of day.
Ingredients
2 Burford Brown eggs
300g sushi rice
1 tsp caster sugar
2 tbsp rice wine vinegar
4 Nori sheets
1 tsp sesame oil
1 tsp sesame seeds
100g cooked peeled prawns, roughly chopped and mix with a good squeeze of lime or yuzu juice
1 medium, ripe avocado
¼ small cucumber
Soya sauce for dipping
Serve with pickled ginger and wasabi
Method
Cook the sushi rice according to the packet instructions. Stir through the sugar and vinegar and leave to cool.
Meanwhile crack the eggs into a bowl and whisk well with a little soya sauce. Place a medium sized frying pan on a medium heat and add a splash of sesame oil. Use a piece of kitchen roll to coat the frying pan with a little oil. Pour in enough egg to coat the bottom of the pan in a thin layer. Draw a line through the mix in the pan with a spatula and swirl the egg round to cook the egg. Sprinkle over a few sesame seeds. Once the omelette is cooked through carefully remove from the pan. Roll up onto a plate and unravel as one piece. You may need to make 2 omelettes.
Peel the avocado, de-stone and cut into slices. Peel, core and cut the cucumber into matchsticks.
Take one of the nori sheets and spoon out around a quarter of the mixture on to the sheet allowing for a 1 cm border around the edge, making sure it's even. Lay a piece of omelette over the rice, arrange a line of chopped prawns, avocado slices and cucumber down the middle.
Fold the bottom edge of the seaweed over the rice and roll it all up nice and firmly. Use a little water to seal the roll together. Roll in clingfilm and place in the fridge whilst you make the other 3 rolls. When ready to serve slice each roll with a sharp or serrated knife and serve with pickled ginger, wasabi, extra sesame seeds and soya sauce for dipping.