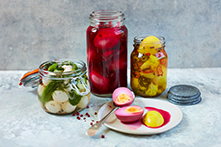 Pickling quail eggs and baby cucumbers takes only minutes to do, and are a scrumptious side or midday snack.
Ingredients
24 quails eggs, hard boiled
6 baby cucumber, sliced, salted over night and rinsed (optional)
1 teaspoon yellow mustard seeds
1 tablespoon black pepper corns
1 teaspoon coriander seeds
1 onion, peeled and sliced
200 ml white wine vinegar
1 bunch dill
4 fresh bay leaves
1 teaspoon salt
Method
Place a medium frying pan on a low heat. Add the mustard seeds, peppercorns and coriander seeds. Toast for a couple of minutes then tip into a bowl.
Add all of the pickling ingredients into a saucepan. Bring the mixture to the boil cook for 2-3 minutes. Allow to cool. Fill the sterilised jar with the cooled eggs and cucumber slices then pour over the cooled mixture.
Pop the lid on tightly and leave in a cool, dry place for around 2 weeks – 1 month. Once opened, keep in the fridge and consume within a week.