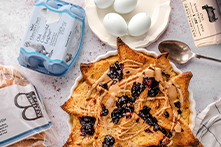 We've teamed up with the brilliant Bertinet Bakery and the superb Sublime Butter to bring you all the Sourdough September goodness you need, starting with a Peanut Butter Jelly Pudding. Simple and scrumptious!
Ingredients
300ml milk
300ml double cream
3 Clarence Court eggs and 1 Clarence Court egg yolk
50g caster sugar
50g peanut butter
50g your favourite jam
50g Pink Himalayan
Sublime Butter
Bertinet Bakery
sourdough bread (enough to cover a dish and layer if you choose)
Method
First, preheat the over to 160c fan.
To make the custard, warm the milk and cream together. In a separate bowl whisk together eggs, yolk and sugar until pale and slowly drizzle over the warm milk/cream. Whisk until smooth and set aside
Butter the bread slices generously on each side and lay into baking dish.
Pour over custard and allow to sit for at least 30 mins or up to 6 hours.
When ready to cook drizzle with jam and peanut butter and bake for 45 minutes.