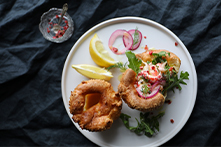 Gloriously golden Yorkshire pudding stuffed with a creamy crayfish filling and peppery rocket. Top with pickled onions and serve.
Ingredients
100g plain flour
2 Clarence Court Braddock White duck eggs
100ml milk
Vegetable oil
100g crayfish tails
1 tablespoon mayonnaise
1 tablespoon sour cream
A handle of chopped fresh dill
1 lemon
1/2 a red onion
Rocket to serve
Method
Mix together the flour, eggs and milk into a smooth batter. Set to cool in the fridge for half an hour.
Heat the oven to 220C. Pour a teaspoon of vegetable oil into the holes of a muffin tin tray and place in the oven to heat for ten minutes. Once piping hot, carefully slide out the tray and swiftly pour in the chilled batter into the holes. Quickly pop back into the oven and cook for fifteen minutes until the Yorkshire puddings have puffed up and are golden brown.
Thinly slice the onion and add to a bowl with the juice of 1/2 the lemon and a pinch of salt. Stir to combine and leave for a few minutes to pickle.
Mix together the crayfish, mayonnaise, sour cream, chopped dill and remaining juice of 1/2 the lemon until combined and season to taste.
Stuff the Yorkshire puddings with rocket leaves and the crayfish mixture. Top with the quick pickled onions and serve.