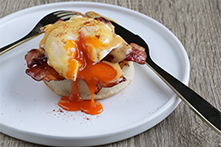 The perfect breakfast crumpet- with a twist.
Ingredients
1 toasted crumpet
3 rashers of crispy bacon
1/2 teaspoon milk chilli powder
For the hollandaise:
1 Clarence Court Burford Brown egg yolk
1 tablespoon white wine vinegar
80g melted butter
1 teaspoon Marmite
1 Clarence Court Burford Brown egg
Method
Pop the egg yolk into a heatproof bowl and set over a pan of simmering water. Add the white wine vinegar and whisk until it starts to thicken. Take the bowl off the heat and whilst vicariously whisking slowly pour in the butter. Add the marmite, mix and set to the side.
Gently crack the egg into the pan of simmering water, cooking for 3-4 minutes until the white is solid but the yolk is still soft.
Top the toasted crumpet with the bacon rashers followed by the poached egg and spoon over the marmite hollandaise. Sprinkle over the mild chilli powder and serve immediately.