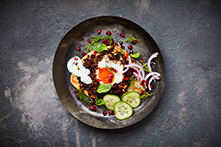 Milly Cookbook kindly shares her recipe for lamb, pine nut & sultana flatbreads with baked eggs, which is packed with flavour and oh so pretty, for our 90th anniversary look book.
Ingredients
For the flatbread:
50g of salted butter
180ml of milk
A pinch of salt
300g of plain flour
For the topping:
2 banana shallots, finely sliced
2 garlic cloves, minced
250g of lamb mince
1 teaspoon of cumin
1 teaspoon of cinnamon
1 teaspoon of sumac
Salt and pepper
1 tablespoon of golden sultanas
1 tablespoon of toasted pine nuts
4 heaped tablespoon of natural yoghurt
2 teaspoon of chopped dill
2 teaspoon of chopped mint
4 Clarence Court Burford Brown eggs
4 teaspoon of pomegranate molasses
1 thumb sized piece of cucumber, sliced very thinly
¼ of a red onion, sliced very thinly
The seeds of ½ a pomegranate
A few fresh leaves of mint and dill to garnish
Method
In a small pan over a low heat, heat the butter, milk and salt until the butter has melted. Pour the mixture into a large bowl containing the flour. Kneed well for a few minutes until a smooth dough is formed and wrap in clingfilm. Allow to rest at room temperature for twenty minutes whilst you prepare the lamb.
In a large frying pan set over a medium heat, fry the shallots for a few minutes in a little olive oil. Once soft add the garlic and cook for a further minute. Break the lamb into the pan and fry until browned all over. Once browned, add the cumin, cinnamon, sumac, a good pinch of salt and pepper and stir. Add a splash of water and allow the mixture to cook down for a few minutes.
Add the sultanas and toasted pine nuts to the pan and continue to cook for a further 5-8 minutes, adding a splash of water again if necessary and cooking until the lamb is tender. Once done keep on a low heat, stirring occasionally.
In a separate bowl, pour in the natural yoghurt and add the chopped dill and mint and set aside.
Preheat the oven to 200C / 180 Fan.
To make the flatbreads, divide the dough into four. Roll into a ball and flatten with your palm. Flour the work surface and roll each piece into the size of a small plate and about just under half a centimetre thick. Pop a frying pan on a medium heat and add a drizzle of olive oil. Fry each flatbread for a minute or two on each side until golden brown then set on a wire wrack over a baking tray.
Spread each flatbread with an even layer of the lamb, making a dent in the centre. Crack a Clarence Court Burford Brown egg into each dent (you may want to discard a little of the egg white before doing this), setting the yolk into the dent. Pop the tray into the oven and cook for 12-15 minutes or until the white is cooked and the egg yolk has just started to set.
Remove from the oven and dot a tablespoon of herby yoghurt over each flatbread. Drizzle with a teaspoon of pomegranate molasses, scatter with the thinly sliced cucumber and red onion and sprinkle with fresh pomegranate seeds. Add a few extra mint and dill leaves to garnish.