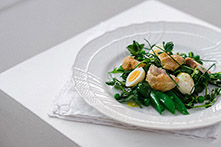 Mark Hix shares his go-to summer salad bursting with the seasons favourite greens - tender tendrils and leaves. Topped with light, soft boiled quail eggs, its the perfect summer starter or side dish, or finish with pan fried quail for a main.
Ingredients
A couple of handfuls of pea shoots
60-70g small peas
60-70g sugar snaps, halved lengthways
60-70g mangetout, shredded
For the dressing
12 Clarence Court quail eggs
1 tablespoon Chardonnay or a good-quality white-wine vinegar
2 tablespoon vegetable or corn oil
2 tablespoon rapeseed or olive oil
1 teaspoon Dijon or Tewkesbury mustard
Salt and freshly ground black pepper
A few sprigs of mint, chopped
Method
Mix all the ingredients for the dressing together, leave to infuse for an hour and strain through a fine-meshed sieve.
Bring a pan of water to a simmer then carefully drop in the eggs with a slotted spoon and simmer for 1.5 minutes then drain and refresh in cold water before peeling and rinsing in cold water in case there are any shells.
To serve, toss all the ingredients together and garnish with extra torn mint leaves and arrange on plates or serving bowls.