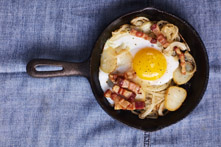 If you can't get your hands on guanciale, which is an Italian cured meat prepared from pork cheeks or jowls (the name comes from the Italian word for cheek), then you can substitute chunks of pancetta or smoked bacon.
Ingredients
4 Clarence Court Duck eggs
A little vegetable oil for frying
A 120g piece of guanciale or pancetta, cut into 1cm chunks
1 medium onion, peeled, halved and thinly sliced
A few good knobs of butter
6-8 medium-sized new potatoes, cooked, peeled and cut into ½cm slices
Salt and freshly ground black pepper
Method
Heat a little vegetable oil in a small frying pan and fry the pieces of guanciale for 3-4 minutes on a low heat, turning them as they are cooking until lightly coloured.
Remove from the pan with a slotted spoon and keep warm. Add the onion to the pan and cook gently for 2-3 minutes until it softens, then remove from the pan.
Add a little butter to the pan and cook the sliced potatoes on a high heat, seasoning and turning as they are cooking until they are lightly coloured. Mix together with the onion and divide into the four skillets.
Put the skillets on the edge of the Aga ring or on a diffuser on a low heat. Add a little butter to each pan, then crack in the eggs, seasoning lightly, and cook on a low heat for a couple of minutes until just set.
Divide up the guanciale between the skillets and serve.