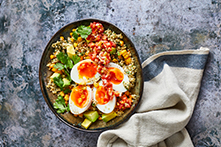 This recipe comes from the wonderful Madeleine Shaw who aptly describes it as a 'holiday in a bowl!' Inspired by the flavours of central America, it's perfect for picnics and can even turn a lunch break in the park into something special.
Ingredients
4 Clarence Court Leghorn White eggs
125g quinoa
2 tablespoon coconut oil or butter, melted
1 teaspoon smoked paprika
1 teaspoon cayenne pepper
2 corn cobs, outer leaves removed
200g cherry tomatoes, finely diced
4 spring onions finely chopped
2 tablespoon cider vinegar
1 tablespoon olive oil
25g fresh coriander, finely chopped
6 tablespoon Greek yoghurt or coconut yogurt
1 lime, juiced
1 avocado, sliced
Method
Put the quinoa in a saucepan with 200ml water and a pinch of salt. Bring to the boil, then turn the heat down and let it gently simmer for 12–15 minutes, or until all the water has been absorbed.
Heat a griddle pan over a medium heat and melt the coconut oil or butter, stirring in your smoked paprika, cayenne, sea salt and freshly ground pepper.
Brush the spiced oil evenly over both corn cobs. Wrap them in foil and griddle them, rotating every few minutes for 20 minutes, or until cooked. Unwrap the corn, let it cool, then use a knife to cut the corn away from the cob.
The salsa is really easy to make: put the tomatoes and spring onion in a bowl then dress them with the cider vinegar, olive oil and a pinch of salt.
Soft boil the eggs in simmering water for 5 minutes, then drain, cover with cold water, and peel the shells off. Slice in half.
Mix the chopped coriander through the quinoa with the yoghurt, lime juice, a pinch of salt and some freshly ground pepper. Throw the corn over the quinoa, then the salsa, the eggs and finally scatter the avocado chunks on top.