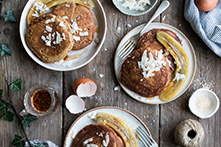 Pancakes topped with your favourite seasonal produce makes a delicious treat all year round. Madeleine Shaw's secret ingredient is the gorgeous rich orange yolks of an Old Cotswold Legbar egg. Here, she tops her pancaked with caramelised bananas, coconut flakes and maple syrup.
Ingredients
220g gluten free flour or spelt flour
1/2 tbsp of baking powder
1 Old Cotswold Legbar egg
175ml almond milk or other milk
4 tbsp pumpkin puree or sweet potato
1/2 tsp of baking soda
½ tsp of cinnamon
½ tsp of ginger
1 pinch of ground nutmeg
1 pinch of salt
2 tbsp of melted coconut oil or butter + more for cooking
1 tsp of vanilla extract
4 tbsp of coconut sugar or honey
50g of raisins
2 bananas, halved
4 tbsp of toasted coconut flakes
maple syrup
Method
Place the flour, baking powder, baking soda, dried spices and salt in a bowl. In another bowl whisk the egg, pour in the milk, pumpkin puree, melted oil and vanilla extract. Pour this into the flour bowl and mix well. Add in 2 tbsp of the coconut sugar and the raisins and leave the mixture to the side.
In a pan heat 2 tsp of coconut oil or butter and fry off 4 tbsp of the batter at a time. Cook for 2-3 minutes each side until golden and cooked through. Repeat with all the mixture and leave to the side, keeping them warm. In the same pan heat some more oil and add in 2 tbsp of coconut sugar allow this to get warm then place in the banana halves. Cook for 2 minutes each side until caramelized then top the pancakes with the banana and top with coconut flakes and maple syrup.